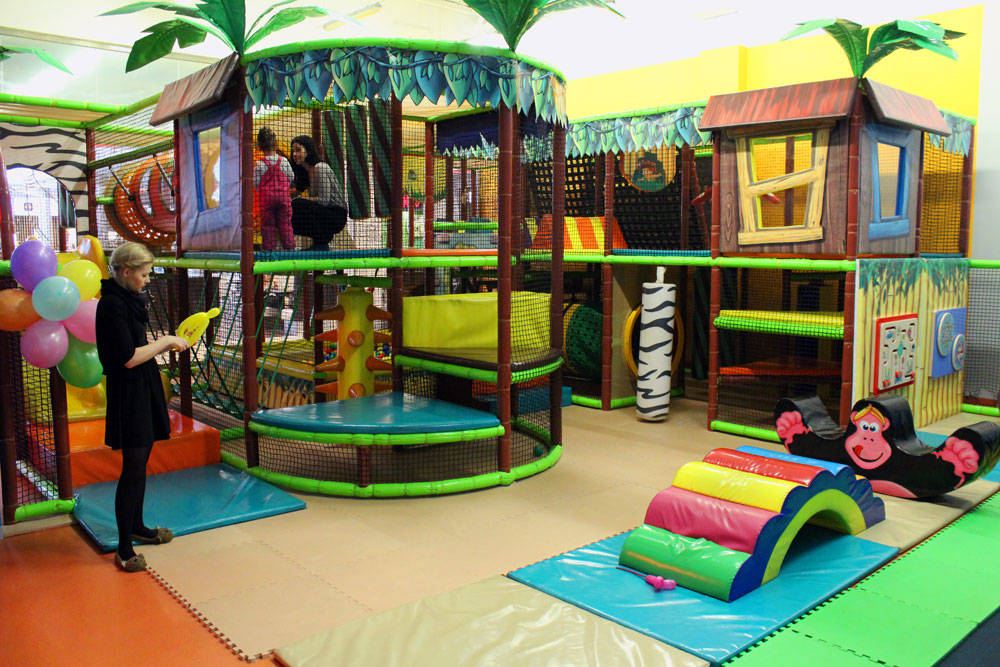 Lucky Star Playground
It's a place where your kids can have a great time while you're shopping. Inflatable attractions, a ball pool and many more will not let anyone get bored. The playground is open from Monday to Thursday from 10:00 am to 8:00 pm, from Friday to Sunday from 10:00 am to 9:00 pm. The entrance is paid.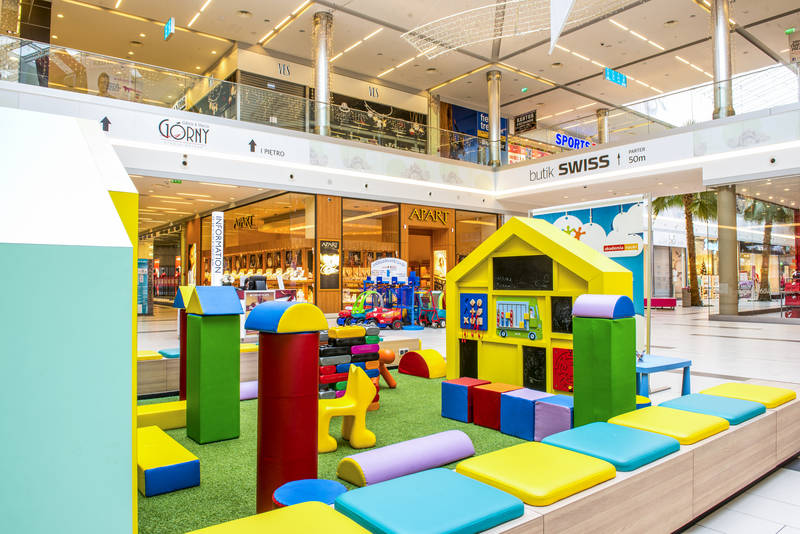 Playground on the Nut Square (Plac Orzechowy)
Giant foam pads for children and comfortable seats for parents are waiting on the groundfloor of our Center.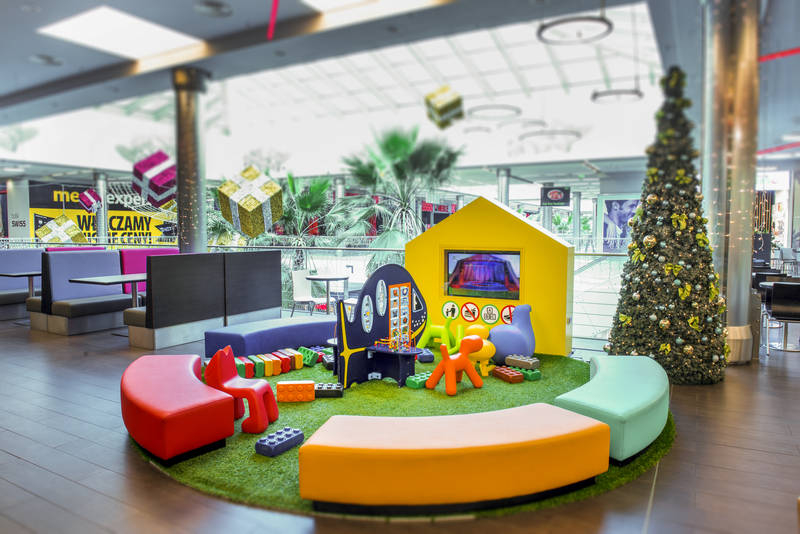 Playground in the Food Court
On the first floor there are tables, chairs, rocking toys and cartoons waiting for children.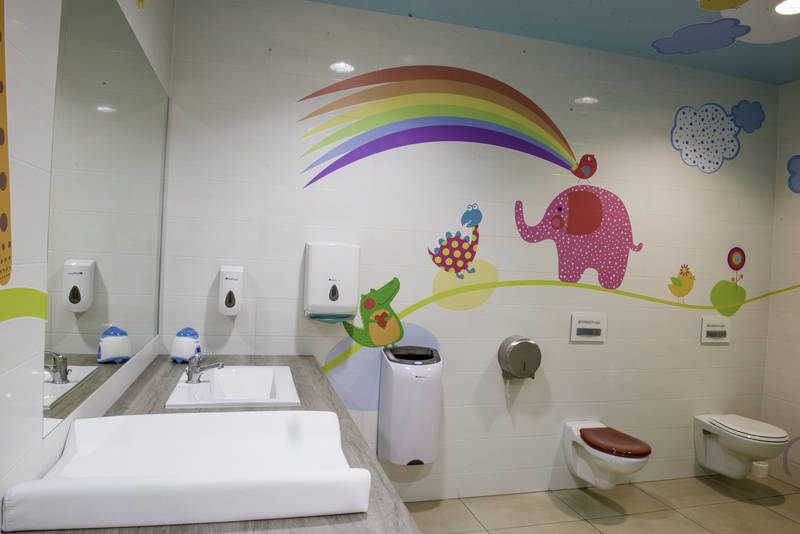 Room for a parent with a child
Out of concern for the comfort and convenience of parents visiting our Center, we gave them a family room at their disposal. Thanks to this, when shopping in Toruń Plaza, parents can easily change or feed their child. The room is located on level O next to the TK Maxx store. It is cozy and functional, it has been equipped with a changing table, armchair and other necessary accessories.
---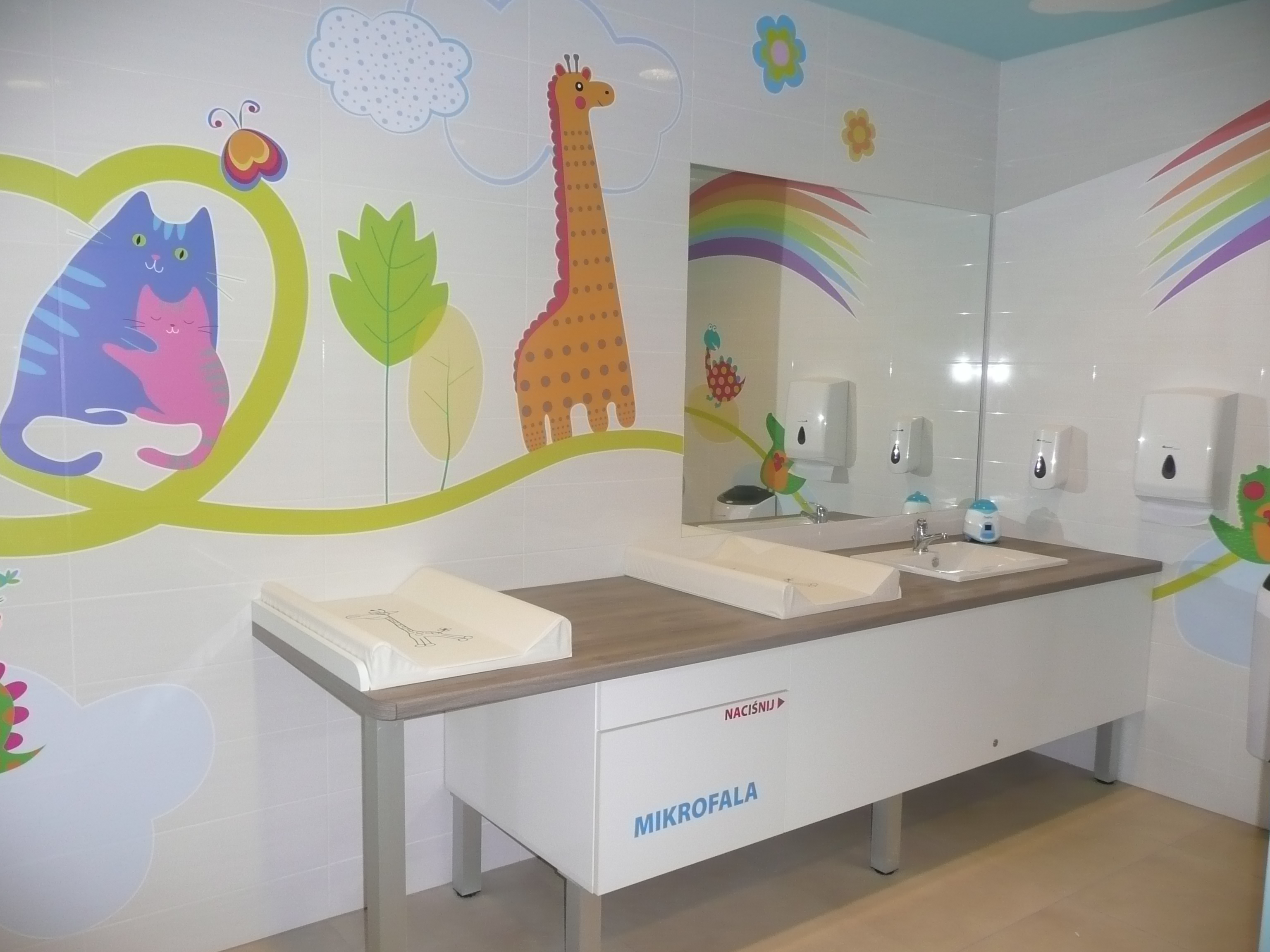 Room for parents with toddlers
We have launched a second room for parents with a child. If you are looking for a peaceful place to feed your baby, be sure to look there. The room is located on the 1st floor. It is equipped with a microwave and a bottle warmer.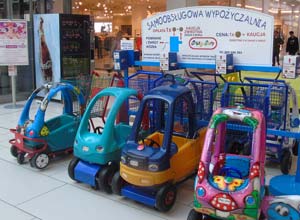 Rental of prams
The rental places are located on the ground floor, near the lifts and in front of Lidl and are open during the opening hours of the Center.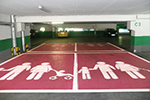 Parking spaces for families with children
Families can take advantage of sixteen parking spaces located close to the entrances. These places are marked in pink and are located on the first and third levels.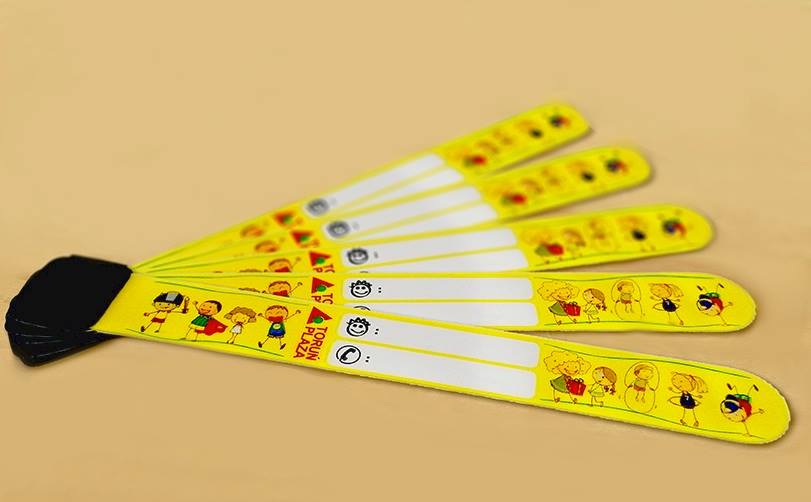 Identification wristbands
For the safety of your children, we invite you to collect the identification band for children at the Information Point. You can save your guardian's contact information on it, which will allow for quick contact if your child is lost.
MONDAYS IN MUM&BABY CLUB
Mum&Baby Club was created for moms and their needs. Finding time to play, learn, take care of yourself and your needs is extremely difficult during the day filled with household chores and childcare. We encourage all mothers to leave home and actively spend time with their children. Classes take place between 12:00 am and 2:00 pm, every Monday and are free of charge. They are run by specialists: speech therapist, dietitian, child psychologist, as well as yoga, fitness and ballet instructor. Everyone can find something interesting for themselves. JOIN THE FACEBOOK GROUP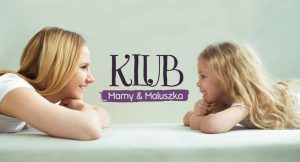 HAPPY FRIDAYS
Every Friday from 5:00 pm to 7:00 pm we organize Happy Friday - free classes during which children are supervised by animators from the Mobile Children's Academy. Creative and educational games are waiting for the youngest. Parents have time for themselves. They can easily do shopping or go for a coffee or to the cinema.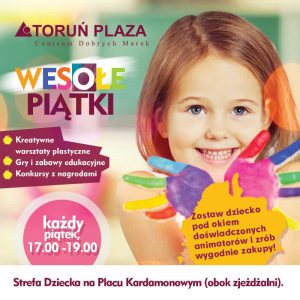 SLIDE
The slide is an attractive alternative to escalators, thanks to which you can accelerate the movement between the 1st level and the ground floor. You will also have a lot of fun at the exit. The slide is located on Cardamon Square at the main entrance (from Broniewskiego street). The attraction is free of charge.
To make the game safe, read the rules.
---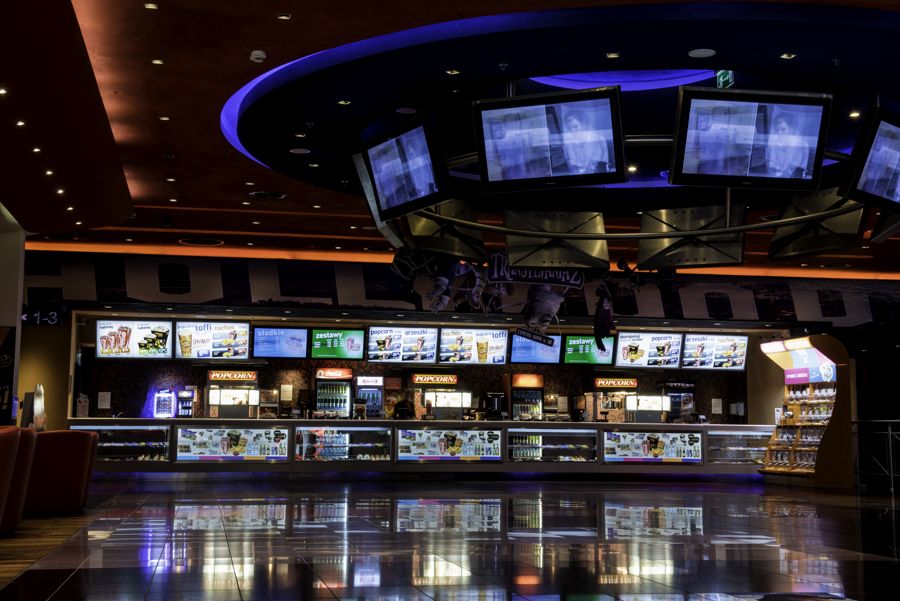 Cinema City - 2D and 3D movies
Cinema in our Centre has eight air-conditioned rooms with ergonomic seats, equipped with Dolby Digital sound systems and 3D Master Image projectors. A single movie can hold over 1,300 spectators. In addition, the multiplex is adapted for people with disabilities. In the repertoire, alongside films for adults and teenagers, you can find fairy tales with dubbing, as well as family films.
CHECK YOUR CURRENT REPERTOIRE CINES
Film nights for women from the "Ladies Night" series are held once a month.
---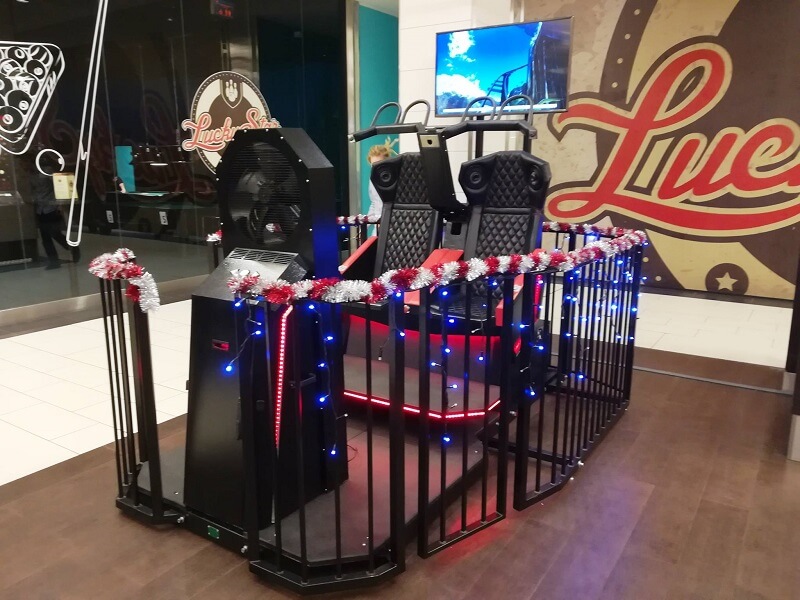 ViRtual Cinema - 5D movies
Adults, teenagers and older children should try virtual reality screenings! ViRtual Cinema is located next to the Lucky Star club and in its repertoire has 15 films from various genres, including fairy tales for children.
---
LUCKY STAR CLUB
bowling, billiards, parties
In the Lucky Star club there is a professional 12-lane bowling alley. There is also a billiard room with 6 tables and a dance zone where parties take place. The club is located on the first level of our center, in the vicinity of the Restaurant Zone.
When shopping at our center, you can pick up a 15%, 25% and 40% discount voucher for a bowling game. p> CHECK THE DETAILS
---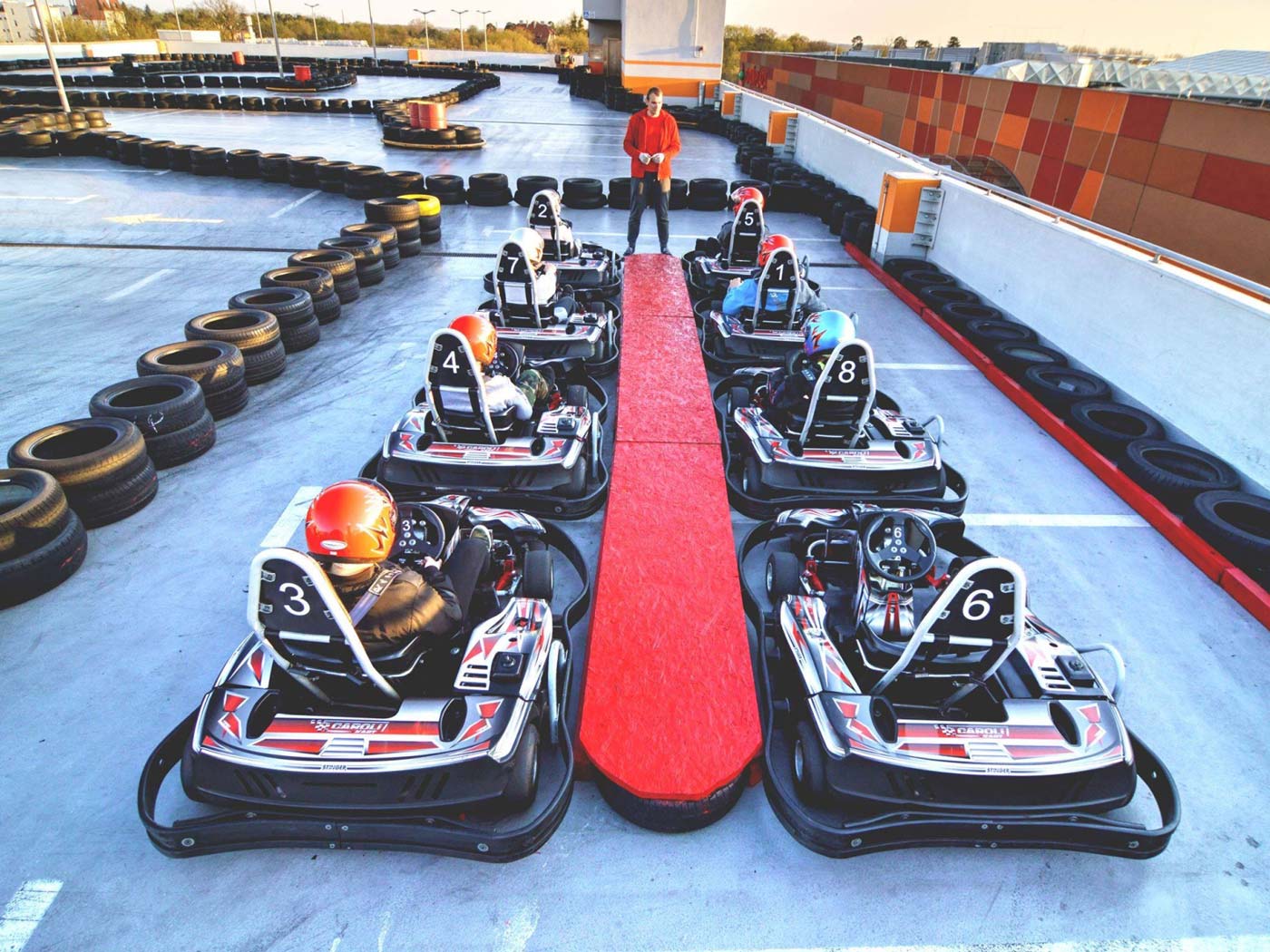 Karts
Adrenaline, competition, race against time - these are emotions that you can feel on the kart track. Kart Place is located on the 5th level of our parking lot. The track configuration allows both amateur and recreational driving. There can be 8 karts on the track at the same time, they are monitored by a professional time measurement system with an accuracy of 0.001 s. P>
Karts are equipped with headrests, seatbelts and adjustable seats, which enables driving for drivers who are at least 140 cm tall. For the younger and newer drivers there is a double cart, ideal for learning to drive. P> The track is open from spring to late autumn.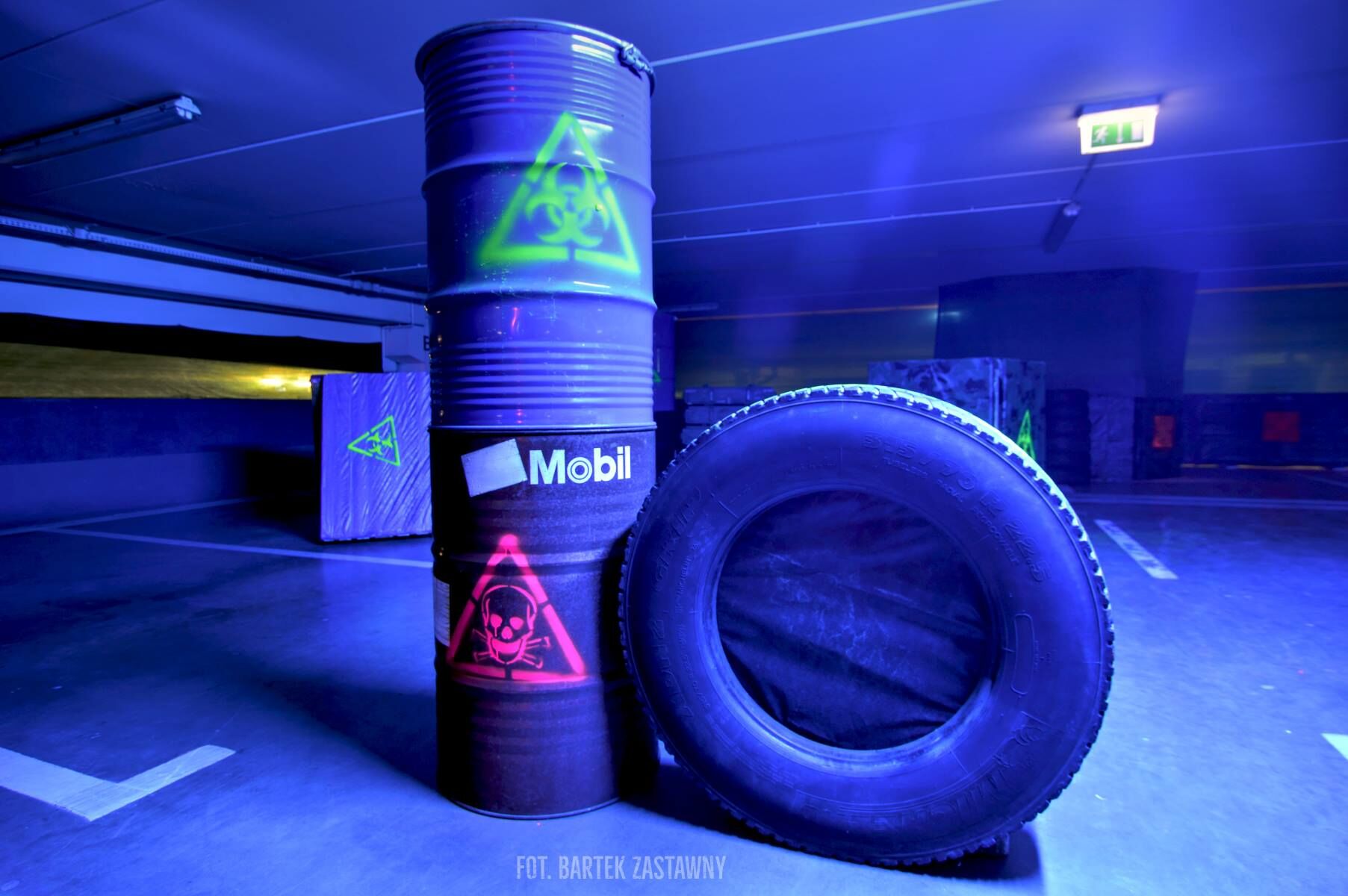 LASER TAG - laser paintball
Laser Tag is an entertainment very similar to the popular paintball, but without its drawbacks. The game is safe and suitable for everyone. To play you do not have to wear a thick uniform or mask. All you need is simple, comfortable clothing. A sporty outfit in a dark color works best. You should also remember about comfortable footwear. Unlike paintball, the Laser Tag is free of ammunition, making it completely safe for every player and person watching the game. The weapon is based on infrared light, which is completely safe for the eyes.
The laser paintball arena is located on the fourth level of our parking lot.
Lasertag is open from spring to late fall.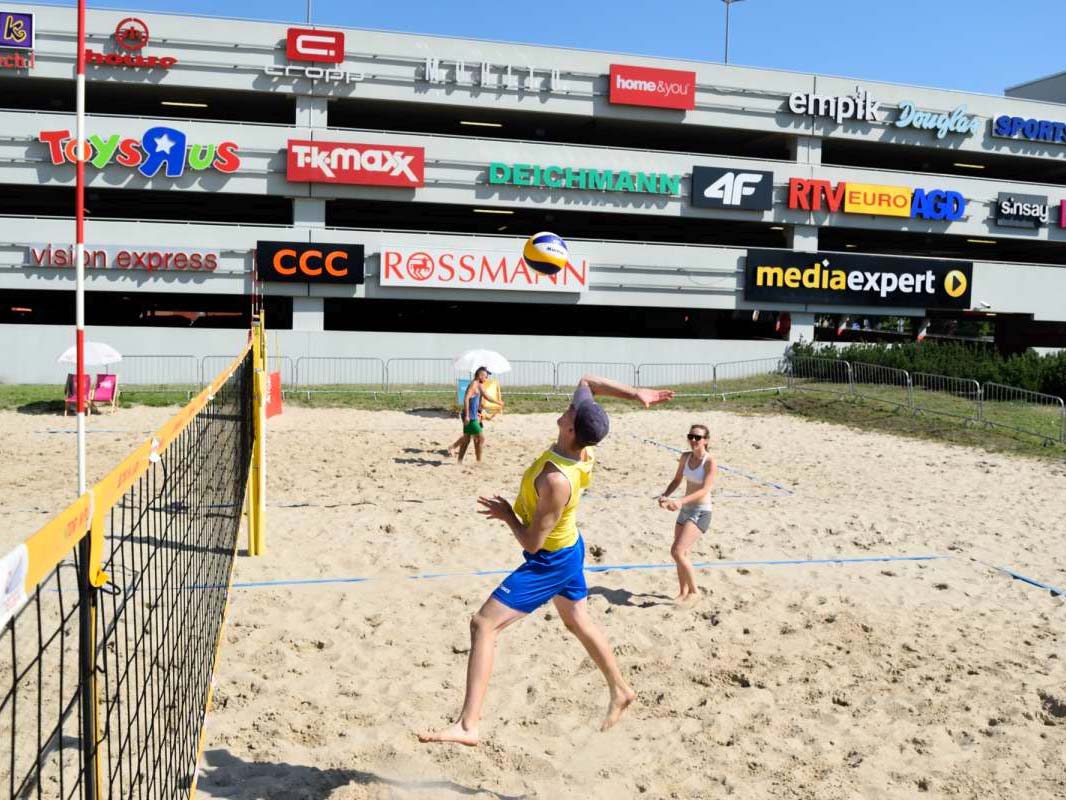 PLAZA BEACH
Our beach is open all summer. You can play beach volleyball there on two playgrounds. For those who are just starting their adventure with this sport, instructors are ready to advise. P>
We invite all interested parties to take part in beach volleyball tournaments, which are played in three categories: men's, women's and mixts. There are attractive prizes to win.
We play beach volleyball during the summer.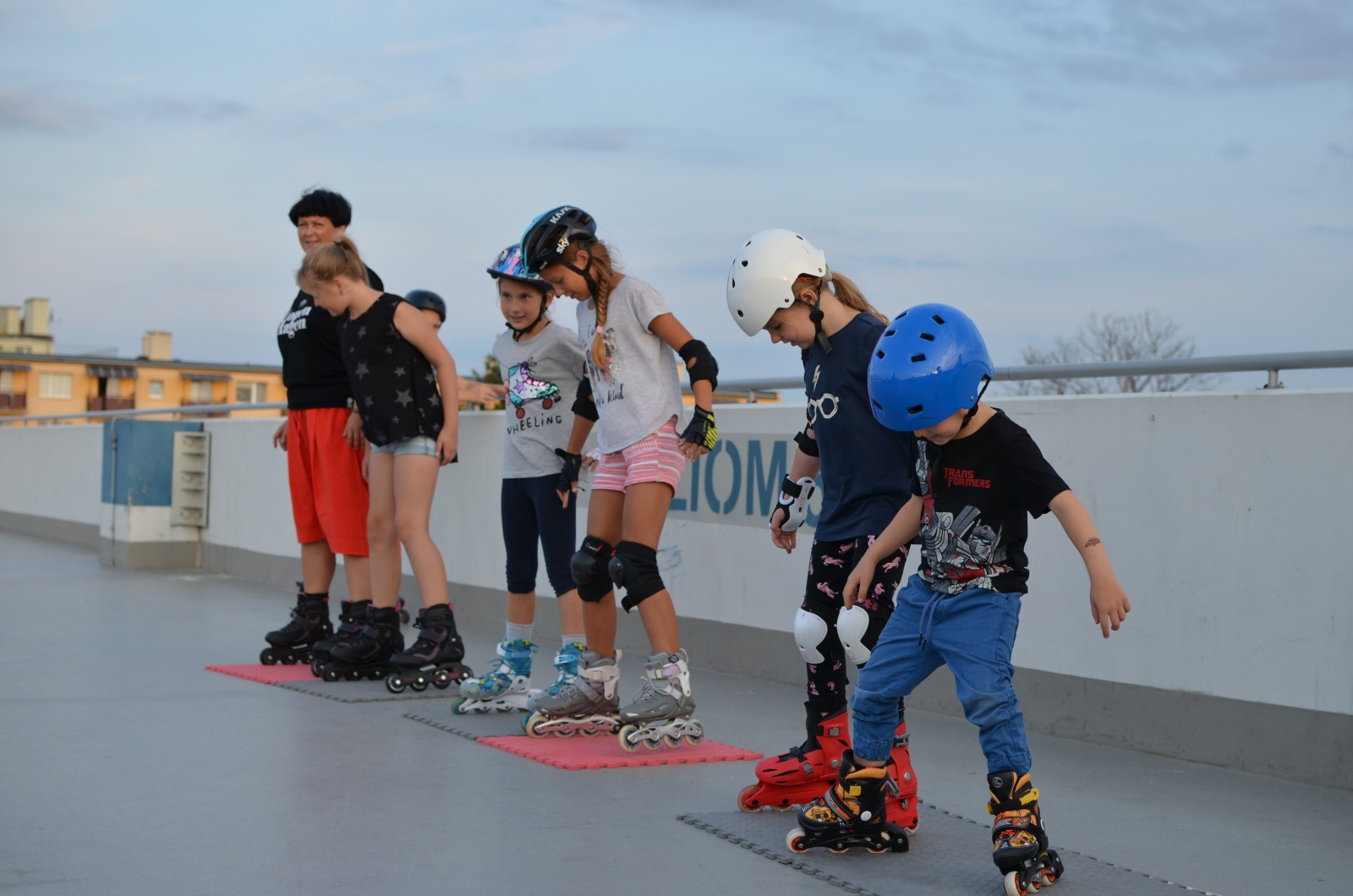 ROLLER SKATING WORKSHOPS
Learning to skate is a good idea for spending time as a family. We invite you to the 4th level of our parking lot from May to September. The workshops are run by instructors from the Ice'n'Roll roller school. You do not have to worry about your own equipment. Rollers, helmets and protectors can be borrowed free of charge before classes.
Participation in the workshop is paid.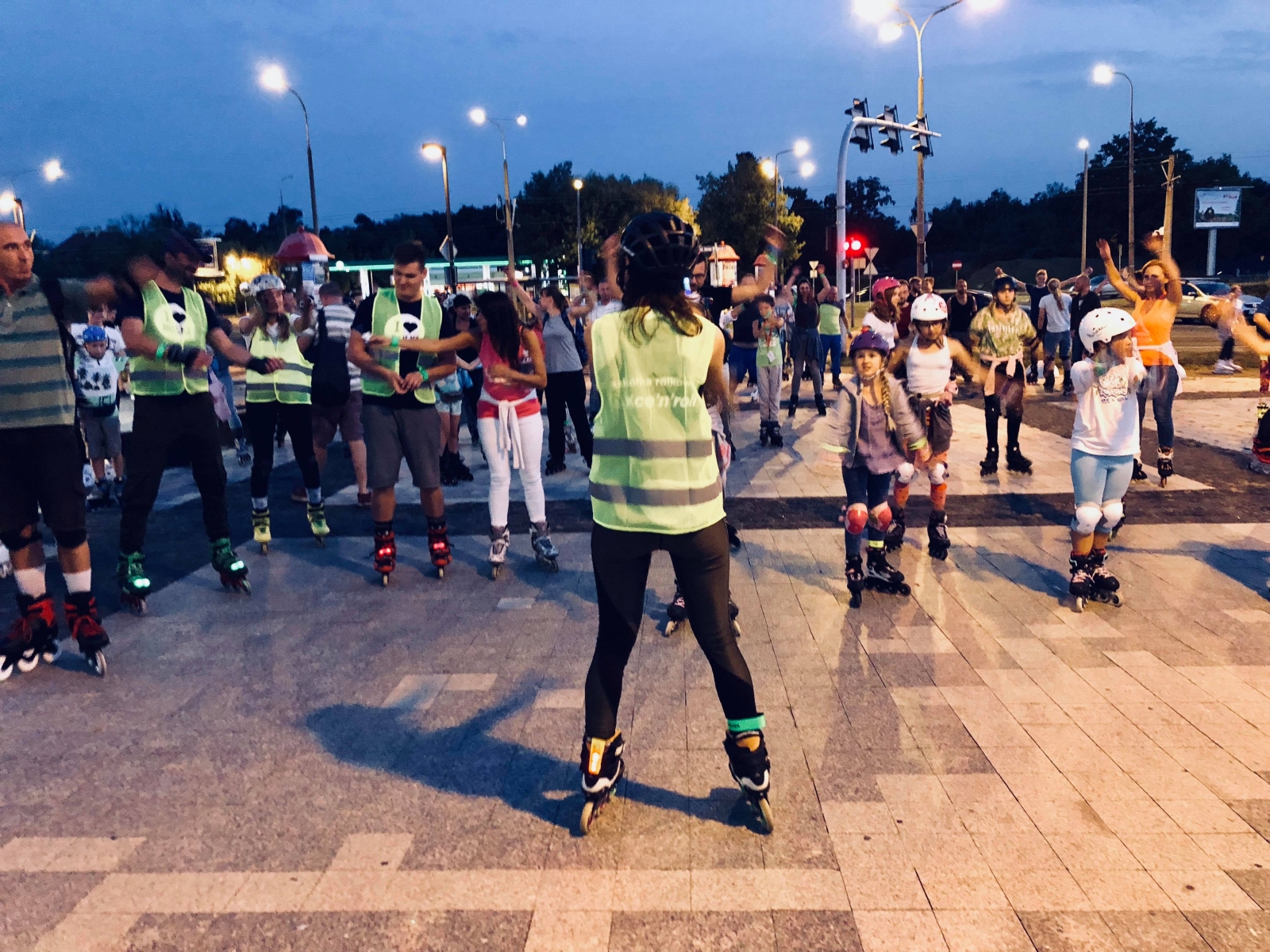 NIGHTSKATING
During the holidays, we invite skaters to participate in evening roller-coaster marathons along the streets of Toruń. Nightskating is cyclical, usually 4 events during the holidays.
Toruń Plaza Gift Card - fulfill many dreams with one gift!
You have no idea for a gift? Give your beloved a Toruń Plaza Gift Card! The Gift Card is perfect for holidays, birthdays, name days and other occasions. Thanks to the possibility of choosing several color versions and an elegant packaging, the card will be a thought out and beautiful gift.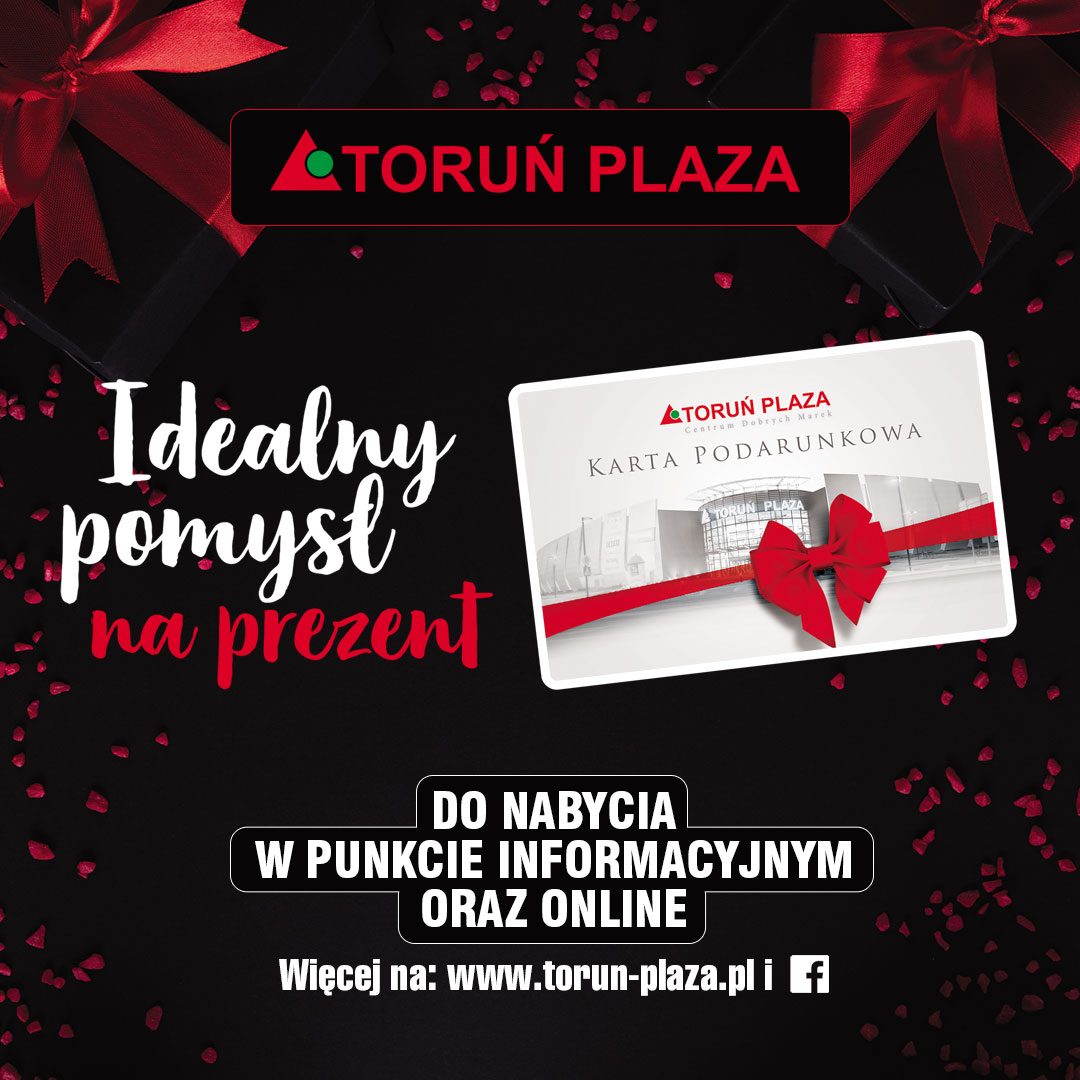 Learn more about the card.
Toruń Plaza Gift Card is a pre-paid payment card. You can specify its value - the minimum amount of payment is 30 PLN, maximum 4000 PLN. You can pay for purchases in stores located in our Center with this card. Shopping can be done in many points. It is possible to combine funds from several different cards, if they have not expired yet.
Where can you buy Toruń Plaza Gift Card?
Toruń Plaza Gift Card can be purchased from Monday to Saturday from 9:00 am to 9:00 pm and on Sunday from 10:00 am to 8:00 pm in the Information Point located in our Center (level 0, next to the elevators). You can pay for it by cash, card or transfer. The entire amount will be made available on the card - there are no additional fees. P>
The Gift Card is valid for 12 months from the date of purchase or until the funds on it are exhausted. The balance of funds available on the card and its validity can be checked by calling 022 490 69 23, on the website www.flex-e-card.pl and in the Information Center in our Center. P>
If your card has been lost or stolen please contact the Customer Service Department at +48 22 490 69 23 to block it.